When choosing the right shade of lipstick to suit your skin tone, don't be left in the dark
Ever wondered why your best friend can rock a deep berry lipstick like Lorde, yet it makes you look like Morticia Addams? That could be down to your skin tone.
Dark lips are a classic winter trend, but this bold look can be daunting and tricky to get right. "Deeper shades of lipstick don't automatically make you look like a vampire, but there is a fine line between an elegant look and a Gothic one," says British make-up artist and trainer Claudia Madeline. This guide will make sure you pick the best shade for your skin tone and apply it like a pro.
FAIR SKIN
Claudia advises you avoid very dark, borderline black shades as they will look too Gothic, and stick to reds and warm plums. "Light, fair skinned women can wear red without any doubt," she says. Want to try purple? Choose a deep shade with a warm base so you're not washed out.
MAC Lipstick in Diva, $36

Revlon Colorburst Lip Crayon in Shameless, $17.95
Cool undertones are your friend. "For medium/olive skin tones the best choice would be cool burgundy and purple colours," advises Claudia. "Stay away from pinkish tones as they will make your skin turn grey." She recommends Illamasqua in Box.
Illamasqua Lipstick in Box, $30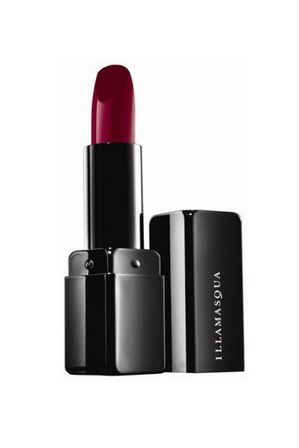 Nars lip pencil in Train Bleu, $25 (Amazon)

DARK SKIN
Dark skinned beauties get all the fun. "Almost all dark shades of lipstick are suitable," says Claudia, "so you will have a variety of wine colours and burgundies to choose from." However, cooler shades of purple and browns will not look as energetic against your skin, and really vibrant reds will look unnatural.
Lord and Berry Vogue Lipstick in Black Red, $24 (aprox) (from www.lookfantastic.com)

Revlon Super Lustrous Lipstick in Black Cherry, $5.99 (from Target)
Final Tips

Make sure your complexion is as flawless as possible. Any redness or dark circles will show up more when you have cherry or plum lips.
Just like you'd never have both your boobs and your legs out, if you're opting for a bold lip, keep eye make-up simple. Never do both.
Generally, the darker your skin, the darker you can go. You can be milky skinned and still rock a purple pout, but the effect is far more dramatic so decide how much of a statement you want to make before you leave the house.
Thin lips? Steer clear of very dark colours and choose light reflecting, shiny shades over matte. You can create a fuller effect by going just over the natural edge of the lips, and gently blurring the edges.
Try dotting a highlighter like Benefit's High Beam  in the centre of your Cupid's bow, and blending across the top lip to make it look fuller.